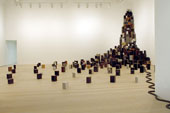 John Wynne makes work for museums, galleries, public spaces and radio: it ranges from large-scale installations to delicate sculptural works; from architectural sound drawings to flying radios and 'composed documentaries' that hover between documentation and abstraction. His Installation for 300 speakers, Pianola and vacuum cleaner (left) was the first piece of sound art in the Saatchi collection and was the centrepiece of the gallery's 2010 summer show, which attracted over half a milion visitors. He has worked with speakers of endangered languages in Botswana and Canada and with heart and lung transplant patients in the UK. He is Emeritus Professor of Sound Art at the University of the Arts London and has a PhD from Goldsmiths College, University of London.

Cats and Dogs is an online performance for violin and video developed for MOCA London during the Coronavirus lockdown in March 2020. The Zoom participants' view of the video, originally shot by Denise Hawrysio, was controlled by the sound of the live violin. It was also performed for Gazelli Art House London in June 2020.

Ukraine Study was made for a Book Art Salon in London in 2019. It uses projection mapping and interactive sound techniques with video and sound recorded by John in Ukraine and violin, played by Evie Hilyer Zeigler.